Watch the event's recording in the link below

Context:
The ecology of actors responsible for preventing and responding to environmental crimes in Brazil is going through a process of pulverization. Whilst the country is experiencing record rates of deforestation, the federal government dismantles the institutions responsible for environmental protection.
In addition to successive budget cuts and personnel reduction, there are frequent attempts to delegitimize data and analysis produced by scientific institutions, as well as the excessive appointment, for middle and high-ranking positions, of civil servants who do not have technical knowledge in the environmental area. Public statements by government authorities in favor of loosening law enforcement and the failure to enforce fines for environmental violations further encourages impunity for environmental crimes in Brazil.
Against this background, Plataforma CIPÓ hosted the webinar: "Beyond the 'Scorched Earth': How to develop a purposeful agenda to fight environmental crimes in Brazil?"
The first session, named "Beyond the State: Short term priorities for the prevention and response to environmental crimes in Brazil", sought to identify what can be done by civil society, in partnership with actors from the private and financial sector and the international community to, in the short term, stop the dismantling of environmental agencies being promoted by Brazil's federal government.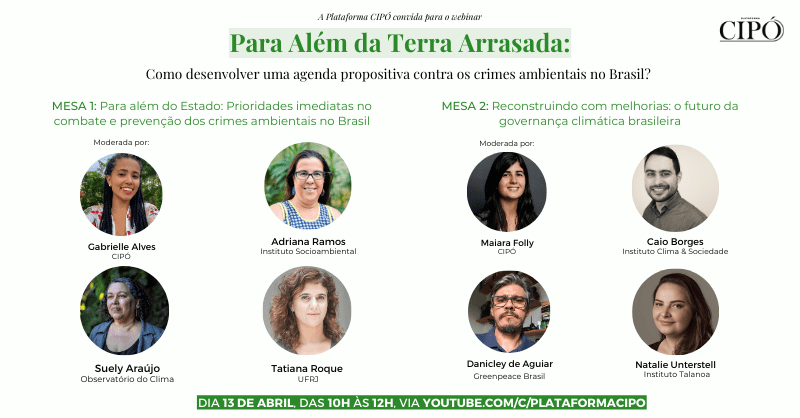 Speakers session 1 (10 AM -11 AM)
Adriana Ramos, coordinator of the Socio-Environmental Policy and Law Program at the Instituto Socioambiental (ISA);
Suely Araújo, senior specialist in Public Policies at the Observatório do Clima and former president of IBAMA;
Tatiana Roque, philosopher and mathematician, professor at the Federal University of Rio de Janeiro (UFRJ);
Moderated by Plataforma CIPÓ;
The second session, "Building back better: the future of Brazil's climate governance", debated what measures can be taken by relevant actors to allow, in the medium to long term, Brazil's climate and environmental governance to be built back better.
Speakers session 2 (11 AM -12 PM)
Caio Borges, coordinator of the Law and Climate Program of the Institute for Climate and Society (ICS);
Natalie Unterstell, coordinator of Política por Inteiro;
Danicley Saraiva de Aguiar, Senior Campaigner at Greenpeace Brazil;
Moderated by: Plataforma CIPÓ.
Schedule
The debate (sessions 1 and 2) took place on April 13, 2021 between 10 AM and 12 PM (Brasília Time).